News
What's Joy writing now? Where will Joy be appearing next? When will Joy's next novel be published? Stay tuned to this page for information as it happens...
December 2018
Read the review of "THE BAD DAUGHTER" published in the Lancashire Post, UK.
"Expect drama, emotional intensity and menace"
THE BAD DAUGHTER made the list of the Globe's top 100 books of 2018.
October 2018
Joy will be appearing at the International Festival of Authors on October 19 in Woodstock, Ontario, and in Toronto on October 26.
September 2018
Joy will be appearing at Word on the Street in Lethbridge, Alberta on Sept. 22 and Word on the Street in Toronto on Sept. 23.
February 2018
Joy will be doing TV appearances to promote her new book THE BAD DAUGHTER.
February 27, 2018
CTV "Your Morning"
February 26, 2018
Global "The Morning Show"
CTV "The Social" - Joy Fielding is appearing on "The Social" at 1pm on February 26, 2018. Canadian viewers can see the full episode here.
February 22, 2018, 7pm
Women of Crime
Queen Elizabeth Park Community, Cultural Centre, 2302 Bridge Rd., Oakville
Since Agatha Christie, women have been a dominant force in crime writing. Join Maureen Jennings (creator of Murdoch), Joy Fielding, Barbara Fradkin, Melodie Campbell and Janet Bolin, all award-winning and best-selling authors who span the crime genre from suspense to mysteries to capers., Panel, readings and a criminally good time.
Tickets available at all OPL branches starting January 25, 2018.
Age: 18 years and up
Cost: $20.00
---
April 2017
April 22, 2017
Prince Edward County Authors' Festival
Picton, Ontario
www.pecauthorfest.com
April 3, 2017, 2pm
Joy will be speaking at the Lantana Public Library
205 W Ocean Ave, Lantana, Florida
---
September/October 2016
Germany Book Tour
Cologne / September 26
8:00 pm at Balloni Hallen
Ehrenfeldgürtel 88-96
50823 Köln
Crime Cologne Festival
Hamburg / September 27
8:00 pm at Uebel & Gefährlich
Feldstr. 66
(Hochbunker)
20359 Hamburg
Harbour Front Literaturfestival
Radebeul / September 28
8:00 pm at Schloß Wackerbarth / Sächsisches Staatsweingut GmbH
Wackerbarthstraße 1
01445 Radebeul
Hannover / September 29
8:15 pm at Buchhandlung Hugendubel
Bahnhofstraße 14
30159 Hannover
Hamm / September 30
7:30 pm at Kurhaus Bad Hamm
Ostenallee 87
59071 Hamm
Festival Mord am Hellweg
Munich / October 2
6:00 pm at BMW Welt, Auditorium
Am Olympiapark 1
80809 München
Krimifestival München
---
April 2016
April 17, 2016 at 8:30pm
Ottawa Writers Festival
SCENE OF THE CRIME with John Lawton, Brenda Chapman, Joy Fielding and Linwood Barclay
Joy fielding will be appearing at the Ottawa Writers Festival with fellow writers John Lawton, Brenda Chapman and Linwood Barclay. Join us for an evening of murder, mayhem, and intrigue. We'll sample the books and participate in a conversation on the alchemy of plot, setting and character that makes their fiction so compelling.
---
March 2016
Joy is featured in the April 2016 issue of Canadian Living Magazine. Read the full article.
March 4, 2016 - She's Not There is #2 on the Globe and Mail's Bestsellers List.
March 1, 2016
Joy Fielding's new release She's Not There is #2 on Pub Alley Fiction Mystery Bestsellers list.
---
February 2016
February 23, 2016 - Joy Fielding appeared on The Social. Here are some video clips below:
Segment 1, Topic 1: Is it time to say goodbye to our skinny jeans?
Segment 1, Topic 2: Why do we teach girls that it's cute to be scared?
Segment 2, Topic 1: Could you go an entire day thinking about your love life?
Segment 2, Topic 2: The ideal workout for wine lovers
February 23, 2016 - Joy Fielding will be appearing on Canada AM and on The Social.
Joy Fielding will be in the April Issue of Canadian Living which will be available in news stands at the end of February.
---
January 2016
Joy Fielding's latest release She's Not There is available for pre-order and will be available in February 23, 2016.
---
May 2015
Tuesday May 19
A Different Drummer Books & Author Series
Burlington Golf and Country Club
422 North Shore Boulevard East, Burlington Ontario
Tickets available
May 11, 2015
Joy Fielding answers questions from CBC's Magic 8 Q&A, letting us know about the kitchen table where she wrote her first book and how women are more adventurous readers than men.
Read the full article here.
May 10, 2015
Interview with Marie-France Bornais, published in Le Journal de Montréal and Le Journal de Québec.
---
April 2015
Someone is Watching debuts at #3 on the Globe and Mail's Hardcover Fiction bestsellers list!
Someone is Watching is listed as #1 on the Pub Alley Fiction Best Sellers List
April 16, 2015 - Interview in Zoomer Magazine
April 14, 2015 - TV Interview: Canada AM (Watch the full interview)
April 13, 2015 - Interview: Global Morning News (Toronto) & TV Interview: The Social at 1pm ET (Watch the full interview)
April 3, 2015
Here is another review of Someone is Watching that appeared in both the Sullivan Country Demomcrat and the Ellenville Shawangunk Journal, two New York Newspapers:
"The first of this excellent entertainer's thrillers I've read in a while, and what a pleasure to be reminded how good she is. It starts with a close-up point-of-view character (our narrator, in fact) you don't like much. Then, just as you're getting really fed up with this woman it raises such hell with her that you can't help beginning to feel for her. And then her struggles grow her in such a way that you root for her gladly as the suspense winds tighter and tighter. Really shrewdly done, tense and gripping."
---
March 2015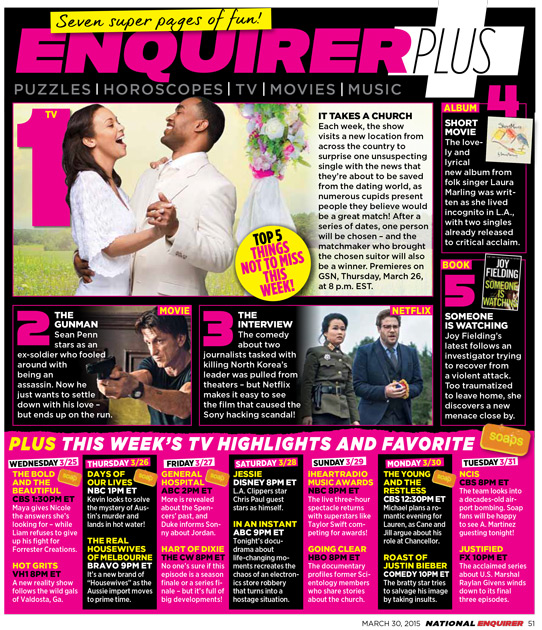 Joy Fielding's latest novel Someone is Watching was featured in the March 2015 issue of the National Enquirer.
Read a sample chapter of Someone is Watching.
Canadian Living magazine interviews best selling author, Joy Fielding, about her craft and what it takes to create a riveting novel.
Joy Fielding shares secrets behind her bestselling success in this Globe and Mail article.
March 31 at 2 pm - I'm speaking at the Palm Beach Main Library (located west of Congress on Summit Blvd.)
March 15 - speaking at a Book-and-Author fundraising brunch on behalf of autism research at the Center for Philanthropy at 700 S. Dixie Highway (for tickets and information to this last event, contact Cookie: Savanakarp@gmail.com)
March 11 - speaking at a brunch at the Cascades in Boynton Beach to benefit cancer research
March 2 - Brandeis University luncheon in Lake Worth
---