News
What's Joy writing now? Where will Joy be appearing next? When will Joy's next novel be published? Stay tuned to this page for information as it happens...
February 2016
February 23, 2016 - Joy Fielding will be appearing on Canada AM and on The Social.
Joy Fielding will be in the April Issue of Canadian Living which will be available in news stands at the end of February.
January 2016
Joy Fielding's latest release She's Not There is available for pre-order and will be available in February 23, 2016.
May 2015
Tuesday May 19
A Different Drummer Books & Author Series
Burlington Golf and Country Club
422 North Shore Boulevard East, Burlington Ontario
Tickets available
May 11, 2015
Joy Fielding answers questions from CBC's Magic 8 Q&A, letting us know about the kitchen table where she wrote her first book and how women are more adventurous readers than men.
Read the full article here.
May 10, 2015
Interview with Marie-France Bornais, published in Le Journal de Montréal and Le Journal de Québec.
---
April 2015
Someone is Watching debuts at #3 on the Globe and Mail's Hardcover Fiction bestsellers list!
Someone is Watching is listed as #1 on the Pub Alley Fiction Best Sellers List
April 16, 2015 - Interview in Zoomer Magazine
April 14, 2015 - TV Interview: Canada AM (Watch the full interview)
April 13, 2015 - Interview: Global Morning News (Toronto) & TV Interview: The Social at 1pm ET (Watch the full interview)
April 3, 2015
Here is another review of Someone is Watching that appeared in both the Sullivan Country Demomcrat and the Ellenville Shawangunk Journal, two New York Newspapers:
"The first of this excellent entertainer's thrillers I've read in a while, and what a pleasure to be reminded how good she is. It starts with a close-up point-of-view character (our narrator, in fact) you don't like much. Then, just as you're getting really fed up with this woman it raises such hell with her that you can't help beginning to feel for her. And then her struggles grow her in such a way that you root for her gladly as the suspense winds tighter and tighter. Really shrewdly done, tense and gripping."
---
March 2015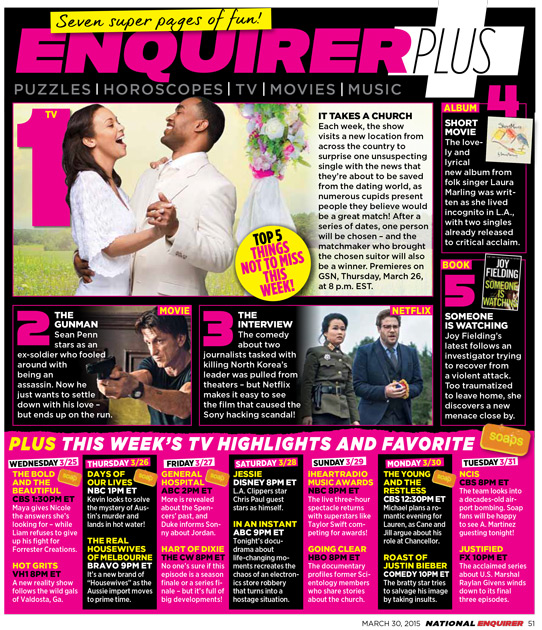 Joy Fielding's latest novel Someone is Watching was featured in the March 2015 issue of the National Enquirer.
Read a sample chapter of Someone is Watching.
Canadian Living magazine interviews best selling author, Joy Fielding, about her craft and what it takes to create a riveting novel.
Joy Fielding shares secrets behind her bestselling success in this Globe and Mail article.
March 31 at 2 pm - I'm speaking at the Palm Beach Main Library (located west of Congress on Summit Blvd.)
March 15 - speaking at a Book-and-Author fundraising brunch on behalf of autism research at the Center for Philanthropy at 700 S. Dixie Highway (for tickets and information to this last event, contact Cookie: Savanakarp@gmail.com)
March 11 - speaking at a brunch at the Cascades in Boynton Beach to benefit cancer research
March 2 - Brandeis University luncheon in Lake Worth
---